Wolf spiders are common around here, as well as in most of the rest of the world. Around this time of year I often see them at night, running across the concrete part of our driveway. Wednesday night when I took the dogs out for their last walk of the day, they immediately spotted one. I noticed it looked a little fuzzy.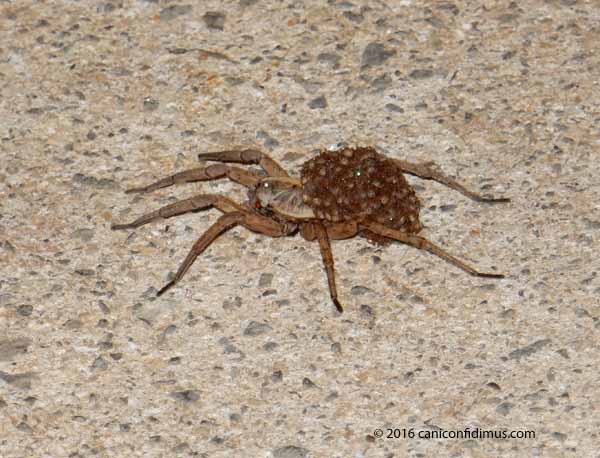 It was fuzzy because of the dozens of baby spiders riding piggy-back. According to Wikipedia, wolf spiders are the only spider that carry their young on their back until the babies are able to fend for themselves.
Wolf spiders may be the only spider that carry their young on their backs, but there are other arachnids that do the same thing. When I lived in Alabama, I once killed a scorpion in my house, only to see dozens of little baby scorpions scatter across the floor.
Since wolf spiders are generally nocturnal hunters, and since their eyes are reflective, I can usually spot many, many spiders out in the yard at night by shining my flashlight over the ground. Every spider eye that the beam hits looks like a glowing green jewel.
And so do their babies' eyes.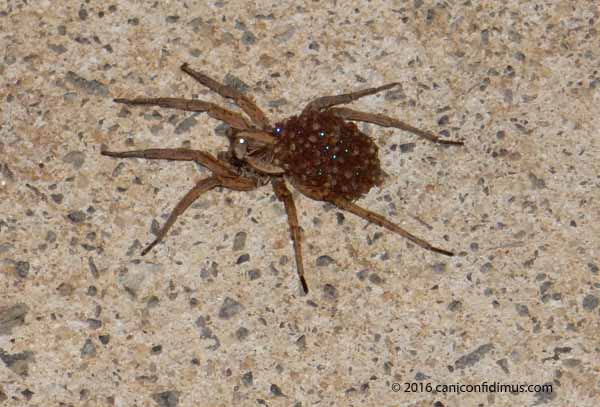 Some of my other shots showed more glowing eyes, but they were too blurred to use. I was shooting at night with the flash, which is what their eyes reflected, but it was hard to get a good, sharp shot.