Leah and I have lost count of the stray dogs that have passed through here in the last 10 years. Lately it seemed to have slowed down, but a few days ago two new strays showed up. I call them "strays" but they were almost certainly abandoned here by someone who doesn't want them. Makes me wish there was a hell.
On Tuesday or Wednesday we started hearing a dog barking somewhere in the woods. Then I saw a small white dog running away up the far side of Lavender Trail. On Thursday I heard a dog barking when I took the dogs for their walk. I followed the barking, but the dog kept moving. Eventually I caught sight of a small reddish brown dog. Sometimes the shy strays will run away but stop at some distance and look back. This one didn't stop.
This was obviously not the white dog I had seen earlier, but it looked to be about the same size.
On Friday evening when Leah and I drove back up Fouche Gap Road we saw the brown dog again. He didn't run from the car, so I got a good enough look to tell that he was an unfixed male. Leah got out and tried to get it to come. A couple of times it came within a few feet, but then turned and ran away.
Later that evening I took the dogs for a walk up Lavender Trail and saw the white dog. It ran at first but then followed us. It was mainly interested in Lucy. It had little interest in Zeke and absolutely no interest in me. This is a blurred shot I got with my phone. It was so dark and the dogs were moving so much that I couldn't get a decent shot.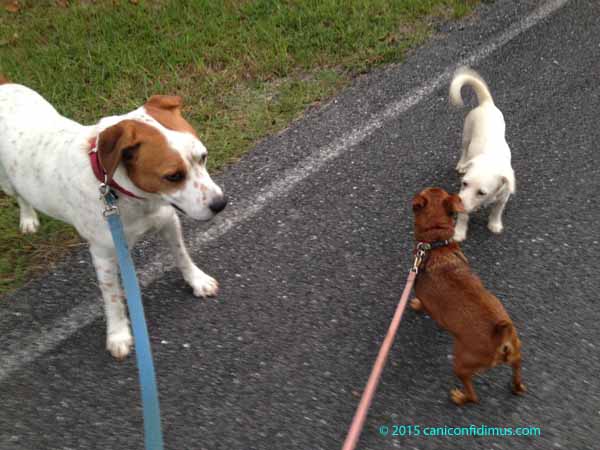 It looks like a puppy, but it seems to be an adult, unfixed male slightly taller than Lucy. Zeke was not polite. You can't tell from the photo, but Zeke was holding his head and his tail up, while the stray held his tail at half-staff. If Zeke knew how to act around other dogs, he would have mirrored the little dog's behavior.
The dog has a hint of a goatee and its body is a little elongated. It may be a mix of some kind of terrier and maybe a dachshund. It's almost exactly the same size as the brown dog. I'm convinced that they're brothers. It's odd that they aren't staying together, but it may be that there is some rivalry since they are both unfixed.
At least three people, including us, are putting out food, so they will probably not starve, although there are plenty of other dangers around, like cars and coyotes. If we could catch them, we would probably take them to the pound, where a local rescue group could save them. We contacted the rescue group but haven't heard back.
Leah and I have taken photos of only a few of the dogs that we have rescued. This was one of the first. I really don't remember where he came from. He was fairly young.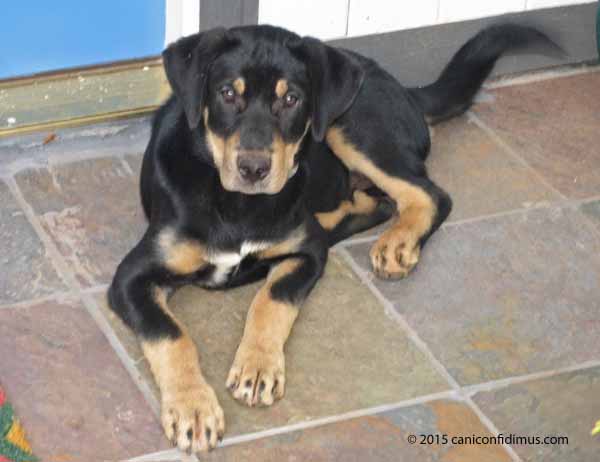 He was probably one of the many dogs that a former neighbor brought home for his kids and then basically abandoned. They always ended up at our house, and we always found new homes for them.
This was one of the saddest cases. I found him on Fouche Gap Road one day when I was walking Zeke.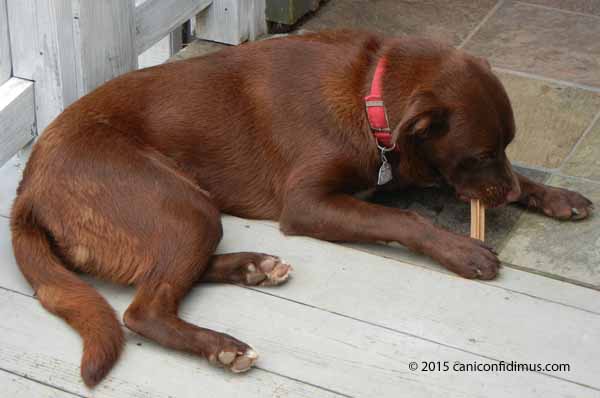 He was afraid at first, but he came when I called him. I got him to follow us home, but he kept lagging behind. Later we found that the pads on all his feet were worn off. They looked like they had blistered and then peeled. I think that meant he had been traveling a while before we found him. He stayed with us for some time and Leah named him Zeppelin. Eventually we sent him with a rescue group up to a shelter in some midwestern state. We checked the shelter's Web site and found a reference to him. They said he had special needs and would take some work before he could be adopted. He didn't have any particular problems (other than not being housebroken) when we had him, so we think the special needs were caused by the stress of the trip north. We felt pretty guilty about that.
This is one of the later ones. Zeke and he got into a fight, so he ran away. The rescue group told us to let animal control take him and then they would rescue him from the pound, so that's what we did.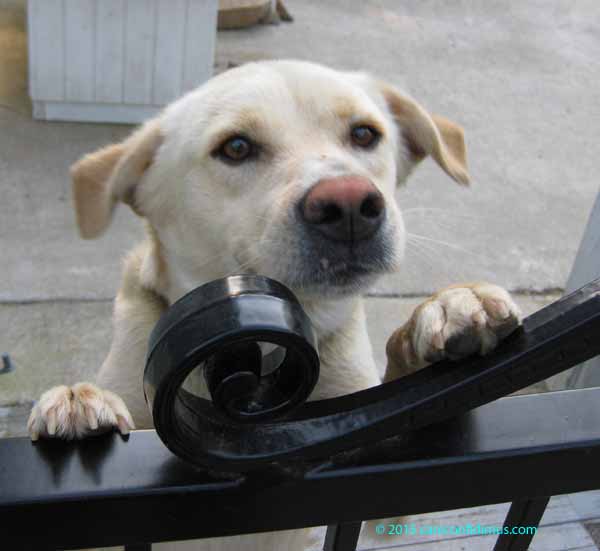 There were so many others we can't remember. We did the best we could for them. We hope they were, or are, happy.