I mentioned in an earlier post that someone had dumped a deer carcass near the intersection of Fouche Gap Road and Lavender Trail, not far from our house. On Saturday our neighbor stopped to talk when I was walking the dogs. He said that a bald eagle had been feeding on the deer carcass. I didn't see it when we went down the mountain, but when we came back up, it was feeding. I stopped as soon as I saw it and took some pictures. Unfortunately, all I had was my phone, which has a wide angle lens.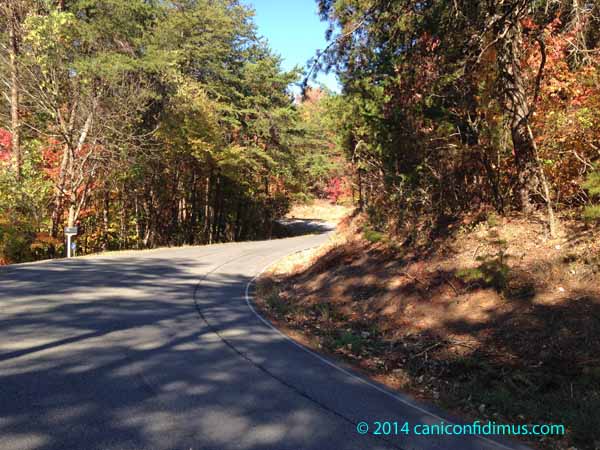 The eagle is the little speck that looks like it's part of the shadows where the road curves back to the left. If you squint and take my word for it, you can see the bird standing on the carcass. Here's a blowup that's not much better.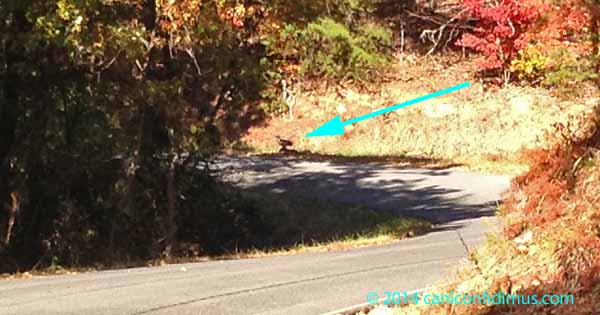 I tried to get closer, but as soon as I moved, the eagle saw me and immediately flew up into a tree.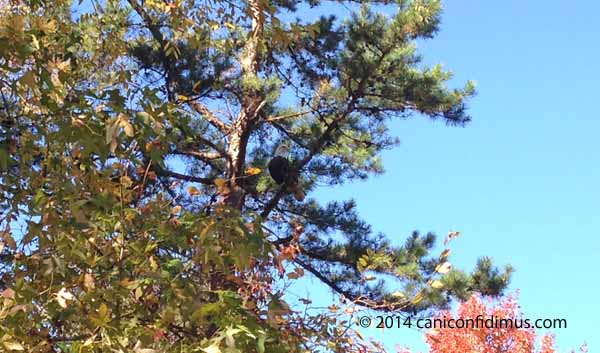 The image quality is not good, but it's the best I could do with the phone. I cropped down as far as I could without losing too much detail.  I took my little Canon with a short telephoto lens on my dog walks on Sunday and Monday but didn't see the eagle. I'm afraid the deer carcass is so worked over now that the eagle may not come back.
This was almost certainly one of a pair that has been nesting on Berry College property for the last few years. Berry has a Web cam at the nesting site. According to Berry's Web page, this is the "first documented nest in the modern history of Floyd County." There are two eagle nests on the Berry campus, but it's not clear whether there are two nesting pairs. One nest is close to the main entrance of the college, and the other is somewhere on Lavender Mountain in an inaccessible area. The inaccessible nest is probably only a few miles from our house.
One pair has laid, hatched and fledged eaglets from the accessible nest.
Berry College had planned to construct an athletic facility near where one nest is located but has moved the construction site away to avoid interfering with the eagles.
I have never seen a bald eagle in Georgia, so it was a real thrill to see this one. There is an eagle nest on an old bridge over the Tennessee River near Scottsboro, Alabama. I used to cross that bridge almost every week when I worked in Huntsville, and I am pretty sure I saw an eagle on that nest on one occasion. The only other time I have seen eagles is when Leah and I visited Alaska on our honeymoon in 2005.