We had a little over three inches of rain from Tuesday morning through sometime before dawn on Wednesday, December 2. When I took the dogs for their walk Wednesday morning, runoff was still sheeting across the road at our neighbor's driveway. As I went further, I could hear the wet-weather stream formed from the ditch on Lavender Trail. A little further and the sound was everywhere. It was so loud as I walked down the mountain that it drowned out the noise of approaching cars. It made me wonder what the Little River Falls over in Alabama looked like. So Wednesday afternoon Leah and I drover the 30 miles over have a look.
Here's what we saw. Click for a bigger image.

Here's what it looked like from the bridge just upstream.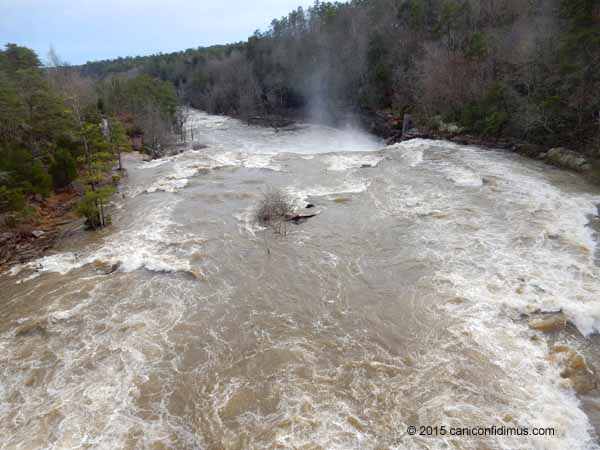 The sound is necessary to appreciate the falls. Here's a video I shot with our little Nikon point and shoot.
If you can't view that one, try this one.
I have posted images of these falls before, once here and another time here. I thought I had seen the river high, but I was mistaken. This was really high. If I'm reading the USGS data correctly, this may be a new recorded instantaneous high flow.