Our eclipse was right on schedule Monday at 2:34 PM here in Rome, Ga. We had about 98 percent coverage of the sun. We took the same pictures that probably millions of others who were not in the path of totality did. Here are the crescents made by the sun filtering through a sparsely-leafed maple next to the driveway.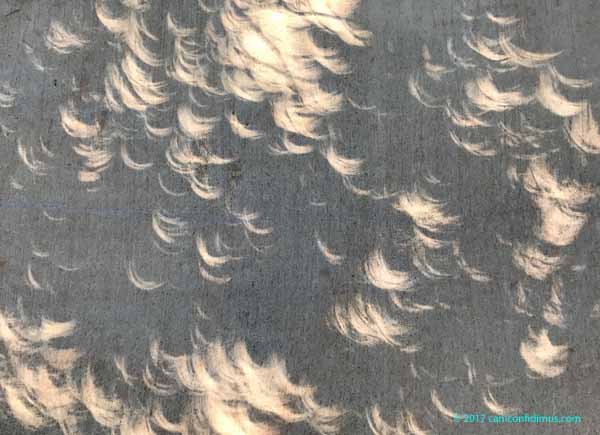 We made an eclipse viewer from a cardboard box. I cut a flap out of the side so we could look in. I made a small hole — a pinhole, as they say — that focused the sun's rays pretty well, but I have to admit that viewing an eclipse that way is not all that satisfying. I think our new cat is going to get more use out of it than we did.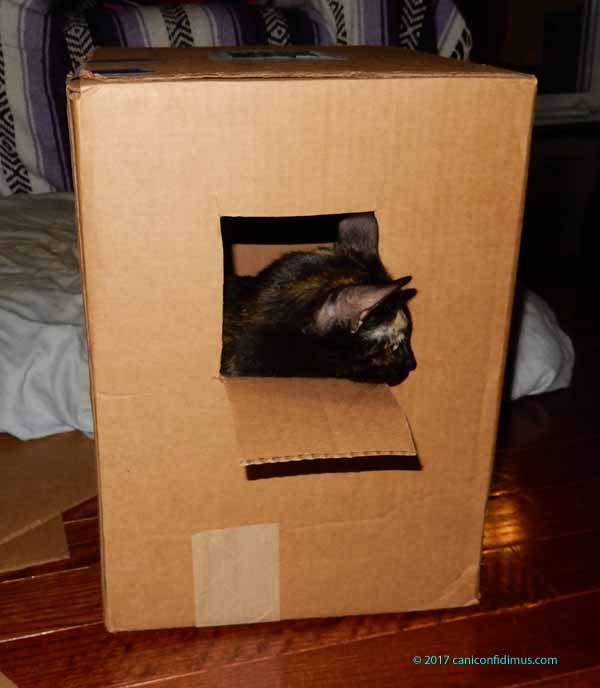 A couple of hours from of us (in normal traffic, not eclipse traffic) the extreme northeastern tip of Georgia was within in the path of totality. The TV stations covered it, of course. The thousands of people who gathered in the little towns in northeast Georgia had a scare as the clouds moved in, but I think they got a pretty decent look at the fully-eclipsed sun. The televised image from a telescope was probably better than what they got with the naked eye.
My brother was in Tennessee at almost the exact center of the moon's shadow, so he got the full effect of the eclipse.
I would like to experience a total eclipse. Although I would like to see the solar corona when the sun is fully covered, what I would really love to see is the shadow of the moon racing towards us at 1800 miles an hour.
They say the next eclipse in the continental US is in 2024. I will be 74 by that time, but I hope I'm still able to travel. Maybe Leah and I can start making plans right away.