The first hummingbirds have shown up here on the mountain. We realized it when one flew into the sliding glass door in our living room about three days ago. We heard a thump and then saw the bird fly away.
Time to put up the feeder.
Several have started feeding. Based on what I've read, they are probably the males, who have arrived to stake out their territory. This shot, taken through the glass, shows two. The one you can actually see is a male.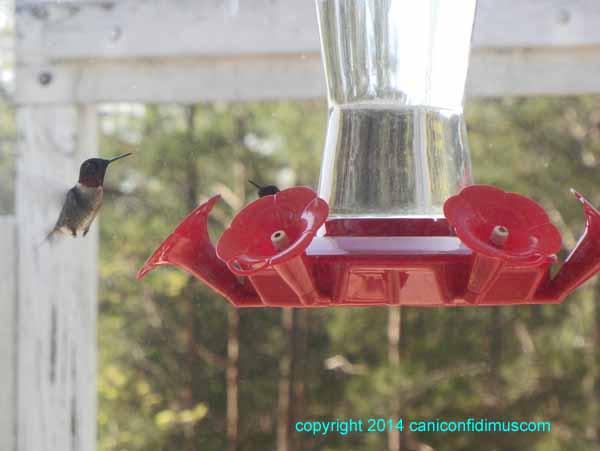 We have always mixed our own hummingbird nectar. Everything we read said use one part sugar to four parts water, but at this site, they say that the one-to-four mix has about the same amount of sugar as the lowest concentration in certain flowers that hummingbirds feed on. They say using a higher concentration, even up to one-to-one, encourages the birds to come to your feeder. The concentration can be lowered gradually to the one-to-four mix.
The site has some more interesting facts about hummingbirds, as well as some advice for ways to  rescue a hummingbird trapped in a garage. I'm going to keep that in mind if another hummer ends up trapped in our garage.