Leah has been noticing signs of some kind of animal eating the cats' food that she puts out in the garage. Saturday night we found out what it was.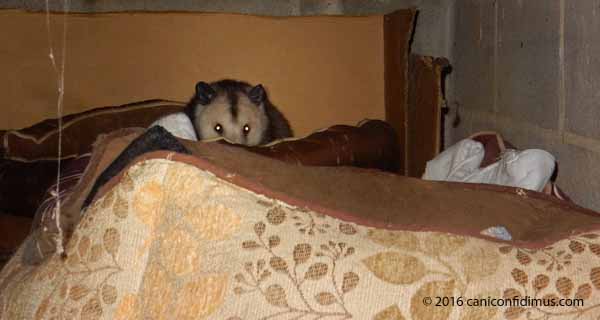 This possum had found the beds Leah put under the stoop at the door from the garage into the house. We often see cats under there in cold weather, but not on Saturday.
Leah wanted to get him out, but I could think of only one way to do it. A couple of years ago another possum found the cozy cat bedroom and settled in for some sleep. Unfortunately, Zeke smelled him out and tore the leash out of my hand before I could stop him. Zeke disposed of the possum, or made a good effort. There was blood. Neither of us wanted to go that route on Saturday, so we settled for baiting our live-capture trap. It came up empty Sunday morning, tripped but with the peanut butter bait still there. We set the trap again Sunday night. We'll see how that turns out.