I wonder if a fox's sense of humor is like a dog's. This makes me think it is.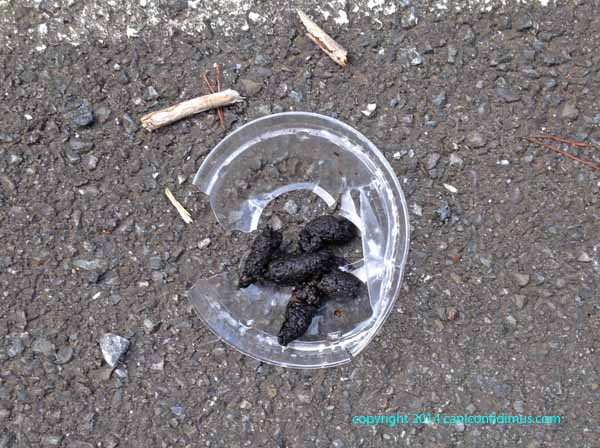 This is what I think is fox poop deposited in what looks like the plastic top of a soft drink cup from a convenience store. It looks like the fox did it on purpose. I guess this kind of behavior is not uncommon, at least for our foxes. We see this kind of poop all over the mountain, including on our driveway. It's finger sized, dark and full of seeds. It looks like what I have seen foxes leave on our driveway in the past.
Although we see the droppings regularly, we don't see the foxes like we used to. I don't think I've actually seen a fox since they left the immediate vicinity during the road resurfacing nearby, last fall.
You may remember the female fox with a bad front leg. I was pleased to hear from our petsitter after we came home from Savannah at the end of June that she had seen a fox with a severe limp. I assumed it had not made it; after all, how likely is it that a three-legged fox could survive in the wild for an extended period of time? Apparently either it's not as severe a handicap as it seems, or this fox is particularly resourceful. Either way, it's encouraging.