My father liked Southwestern Indian jewelry almost as much as my mother. He bought some rings and belt buckles, but what he wore most of the time was silver and turquoise watchbands. The actual watches attached to those bands were quite ordinary, but he also had some interesting watches. Here are some of his watches.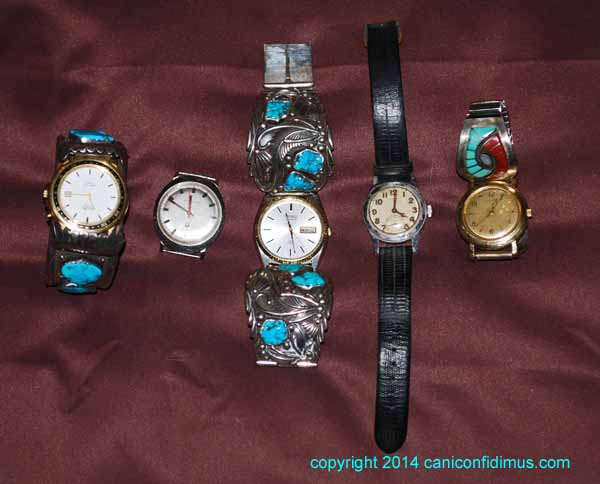 The watch on the left has a heavy silver band with turquoise stones inset on both sides. Here it is from the side.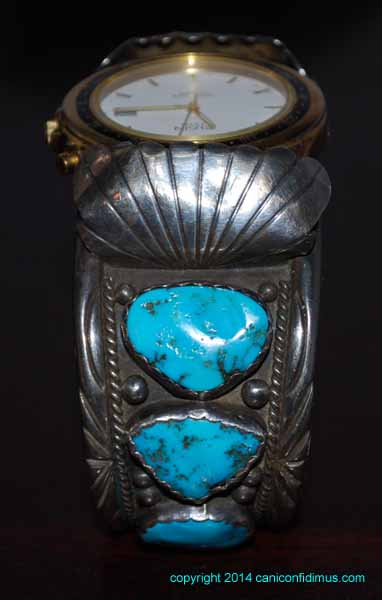 To put this watch on you have to force your wrist through the open back. My father's wrist was big enough that it fit him well once he got it on, but my wrists are so skinny I can't wear this type of band. It's too loose.
The second watch from the left is one of the original Bulova Accutron tuning fork watches. This type of watch was probably the most accurate of its time. It was sold for 17 years starting in 1960. It is one of the coolest watches ever made. It keeps time with an actual tuning fork that vibrates at (I believe) either 360 or 480 cycles per second. It doesn't tick, it hums. If you lay it down just right on a wood table, the table will resonate and you can hear the hum across the room. My parents gave me one in around 1976. I would still wear it today, but unfortunately they have some mechanical weaknesses and neither mine nor my father's works today.
The band in the middle has a clasp on the back. I don't know much about this band.
The watch on the second from the right is my father's World War II Army watch. It's a Hamilton. I wore this one for a while in the 1970's, but it didn't work well then, and probably doesn't work at all today. A good cleaning might make it work again.
The band on the right is called a hummingbird style. It has coral and mother of pearl in addition to turquoise. It was made by a Zuni artist named Amy Quandelacy. It's one of the few Southwestern Indian styles that I know and can recognize. I also have a band like this that I wear today.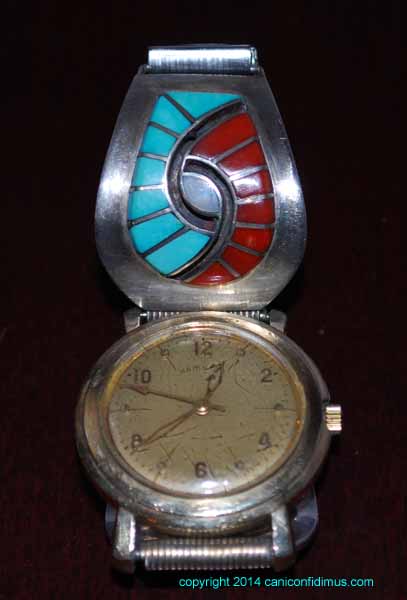 This is not my father's watch. It's my great-grandfather's Seth Thomas pocketwatch.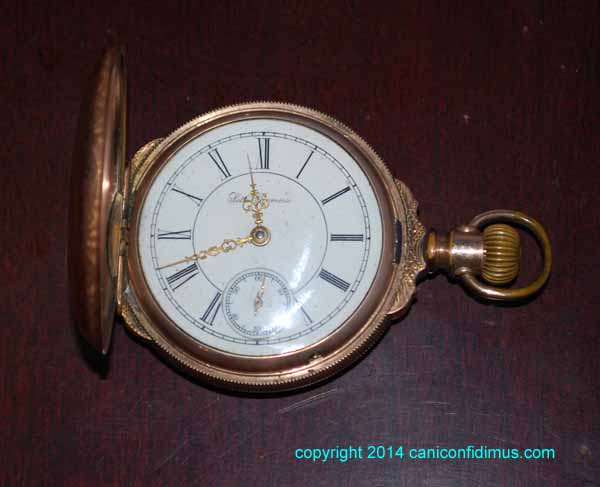 This watch has seen a lot of use. The engraving on the outside is worn away nearly to nothing. I tried to move the hands, but there was some resistance, so I stopped for fear of breaking something.
I know virtually nothing about my great-grandfather A.B Carnes except that he was a preacher. I have a very vague memory of my great-grandmother sitting in a rocking chair in my grandmother's house when I was very young. Great-granddaddy Carnes died quite some time before that.