That's starts with "T" and that rhymes with "P" and that stands for "pee."
Lucy has been urinating indoors a good bit over the last several months. She wets her bed, as well as Sam and Zeke's bed. She has peed on a bed we put down in the living room for Sam and Zeke when they decide to keep us company instead of hiding in our bedroom. She also pees on our bathroom rugs. In fact, she has peed right in front of us, with us watching as it happened.
She has had a problem with indoor elimination for a long time. I used to regularly check my mother's basement for little surprises Lucy had left. We blamed my mother's hearing problems for that. We assumed that Lucy went to the front door and barked to be let out, like any civilized dog, but my mother couldn't hear. Then, we thought, Lucy eventually had to answer nature's call.
At least that's what we thought back in those days.
Lucy continued that behavior after we took her home in my mother's last days. That was five years ago. She would occasionally poop in one of the back rooms, but not too often. We were careful to take her out regularly, and she barked at the door if we waited too long.
Some months ago she started peeing inside. We took her to the vet to have her checked, but the vet found nothing wrong. We have been particularly careful over the last months to make sure she goes outside often, to no avail. A few times I have taken her out to reliever herself. Maybe she poops but doesn't pee. Then, a few minutes later, she pees in her bed or on the other dogs' pad. It seems to be getting worse.
We had to buy waterproof covers for the pillow she uses as a bed in her crate. Then, because she managed to get the pillow wet through the zipper, we started putting two waterproof covers on. When she wets her bed, we have to wash everything including the waterproof covers. We have two sets, but Monday she managed to wet the second set before the first set was washed.
Here she is with a trash bag serving as a waterproof pillow cover.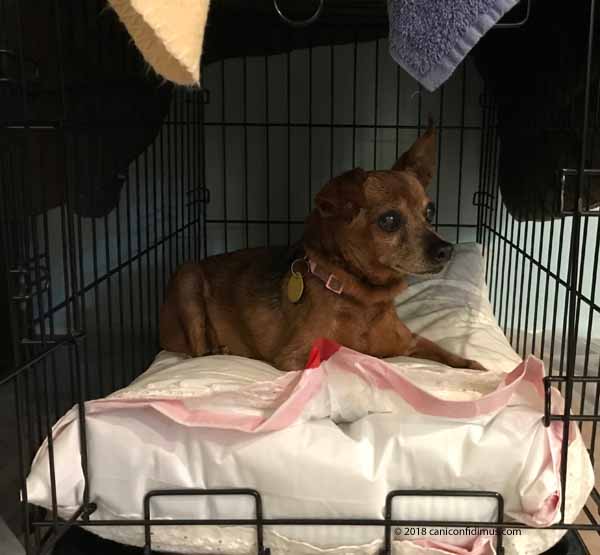 The vet said that Lucy's problem may be behavioral, which will be hard to resolve. Leah and I suspect it might have something to do with old age. We don't know Lucy's age, but we think she's pretty old. We're pretty sure she's profoundly hearing impaired. She also may be suffering some early-stage dementia. Who knows?
All we know is that it's getting to be a big problem. We don't know what we're going to do, aside from continuing to change her bed every so often. It's almost like having a baby, but we know she won't grow out of it. It's kind of sad.
After I had finished this post, Leah and I went about our business. Some time around 9 pm, Leah went into the bathroom and found that Lucy had peed on the rug in front of the vanity. We had been in the living room or the kitchen with Lucy in plain sight the whole time; neither one of us saw her go into the bathroom. We have no idea what to do about Lucy.