We had some pretty cold weather here last week. One morning shortly after sunrise we saw 8F (around -13C). It stayed below freezing all day and then dropped to around 11F by the next morning.
Of course I kept a fire going.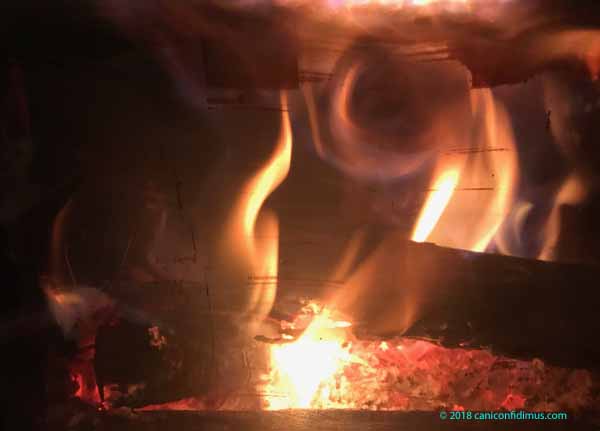 I also kept the blower on to get some of the heat into our bedroom.
We have electric floor heat in both bathrooms, although we turn on the heat in only one of the bathrooms. The heat comes on for a few hours in the morning for Leah and in the evening for me. Some heat is also provided by the usual appliances, like refrigerator and freezer, and a little bit from the television, and even less from things like the bedside clock. But, if I keep the fire going, essentially all of our heat comes from the wood stove.
On a night with a low closer to average, which is around freezing this time of year, we can keep the living room between 70 and 73 all night by stoking the fire before bedtime and then stoking again during the night. If we turn off the blower, the bedroom cools from around 70 down to maybe 68, or possibly even 66.. On nights like we had last week, I have to keep the stove draft almost wide open and add more wood twice during the night to keep a hot-enough fire going until morning.
I underestimated the amount of firewood we needed for the winter, so a couple of weeks ago I went into the woods on our property and cut some more trees that I had marked as dead last summer. We lost nearly all the native dogwoods growing here, so I ended up cutting several decent-sized trees with trunks around five or six inches in diameter.
Seasoned dogwood, at least near the base, is a nice, pretty, pale pink. It's almost a shame to burn it. In fact, I would never cut a living dogwood just for firewood. They are my favorite understory tree, but even if they were not, they are usually pretty small trees. The ones I cut must have been at least 20 years old to get as big as they did, maybe even older. Since they were already dead and had been standing, drying for so long, and since I needed firewood, I cut them. Dogwood makes good firewood. It's dense and burns for a long time.
The energy we get from burning wood comes ultimately from the sun. Photosynthesizing plants use energy from the sun to break the molecular bonds of carbon dioxide in the air, producing carbon, which plants use to build the structure of the plant, and oxygen, which is essentially a waste product for plants. And thanks to the plants for pooping out that oxygen, since we couldn't live without it. (If you haven't thanked a photosynthesizing plant for giving us their unused oxygen, do so immediately.)
Carbon dioxide is a stable molecule. It requires energy to break the bond that keeps it together. The energy required to break the carbon-oxygen bond is essentially stored in the carbon. Burning the carbon gets that energy back. That makes a tree essentially a storage device for solar energy.
On those very cold nights last week, I fed our fire three times in one night, once before I went to bed, a second time about around 3 am, and a third time around 4 or 5 am. Each time I used three pieces of wood that were about a foot long and five to six inches in diameter. I fed the fire a total of nine pieces of wood, for total of about 10 feet of tree trunk.
That means that it took about 10 feet of stored solar energy to heat our house on that cold night.