It had been a long time since I visited my friends in Denver, so I took a quick trip out a couple of weeks ago. I took Zeke and Lucy; Leah stayed home to take care of the cats and Sam, who still gets carsick. I had planned to leave on a Monday, but Zeke made a break for freedom and it took until about mid-afternoon to find him and convince him to come back home. So I left on Tuesday.
It's 1360 miles from our house, a nice, two-day drive. I've made this drive and a similar drive to Albuquerque many times, sometimes in my truck and sometimes riding a motorcycle. I have always simply slept somewhere along the way, in a rest area if in the truck or in some tall weeds if I rode the bike. I stopped this time at a rest area on I-70 in Kansas. I wanted to make 700 miles so the next day would be shorter, but I didn't manage it.
During the night I dreamed that I was sleeping across the front seats of the truck with my shoulder, my hip and my knee hurting. Then I woke up, sleeping across the front seat with my shoulder, hip and knee hurting.
This was sunrise at the rest area.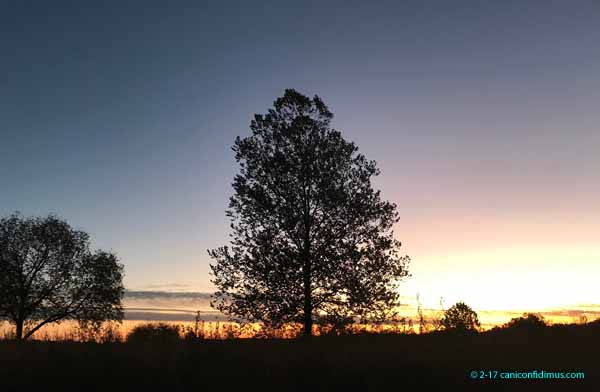 I wanted to leave before sunrise, but between hurting and having to take Lucy for a couple of walks during the night, I didn't sleep well enough to make it.
I got to my friends Errol and Cookie's house around 8 pm. I usually say I'm visiting Denver, but they actually live in Littleton. Errol and Cookie's daughter Debra and her husband Tres live not far away, also in Littleton. Grandson Will was there, and granddaughter Emily came home from college to see friends. Another old friend, Tom, Errol's brother, rode his motorcycle up from near Albuquerque. We spent the next four days visiting.
Here are Tom (standing) and Errol working on Tom's bike, a 1989 Honda Transalp. I pointed out to them that when you take a trip on a motorcycle, your destination should always be somewhere that you can work on your motorcycle. Maybe that doesn't apply to modern bikes.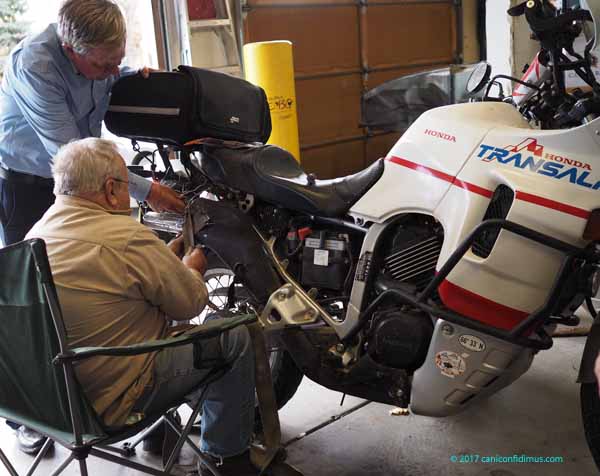 Tres is restoring an MGB-GT, donated by Tom.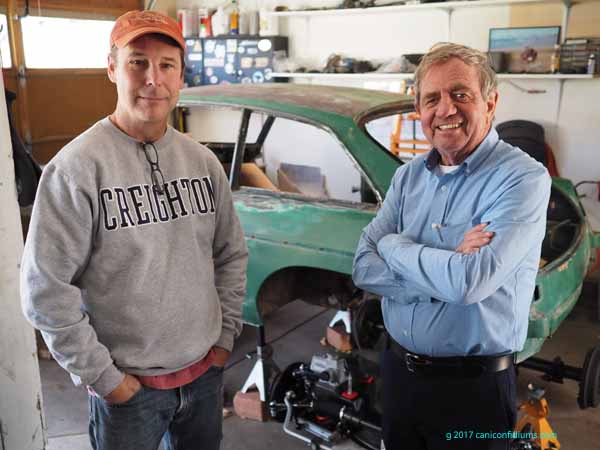 Tres's work is meticulous. The front suspension assembly is lying on the floor right behind Tom. When I saw it I thought it was a rebuilt assembly that Tres had ordered from England, but, no, it was his work. I expect the finished car to look like it was ordered directly from England.
Debra and Tres's dog Elroy looks like Zeke's cousin.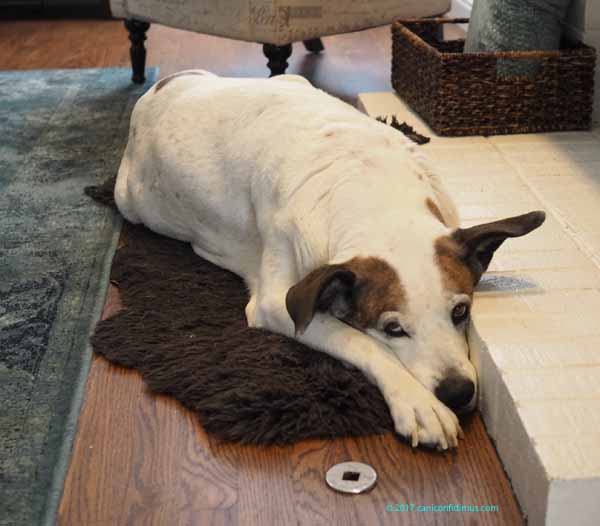 They also have a cat, Spencer. Elroy and Spencer get along famously.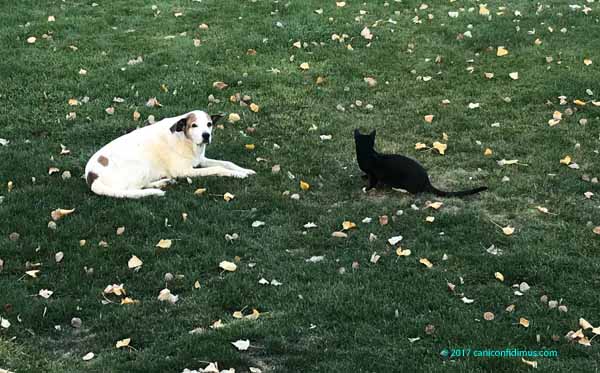 Spencer is a cat that is exactly like one that we don't have.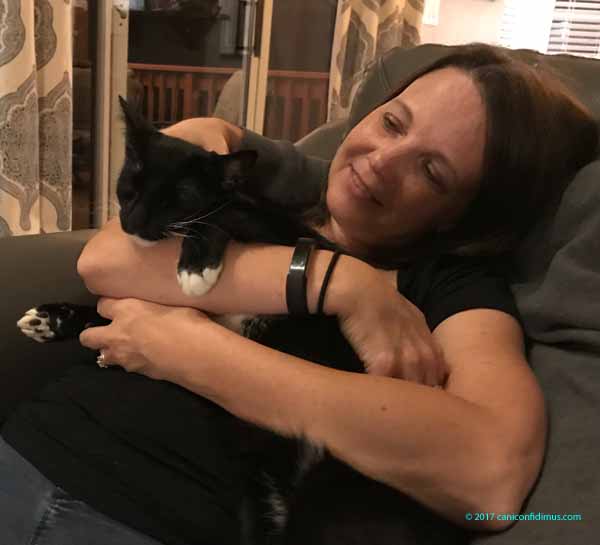 Zeke and Elroy didn't get along that well. There was a lot of posturing, some growling and at least one phony fight that involved snarling, barking and snapping, none of which resulted in any injury that I could see. I found a spot of blood above Elroy's eye, but it wiped off, so I think it probably came from Zeke, although I couldn't find any place on Zeke where the blood could have come from. I'm not sure what their problem is. I suspect that Elroy resents Zeke, and Zeke is not appropriately respectful in his host's home.
Part of the visit required that we sit on Debra and Tres's deck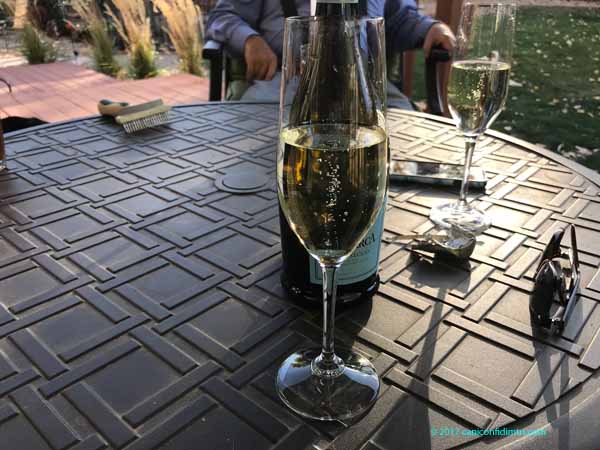 I think we probably talked about things.
After four short days I had to head back home. I had one last breakfast with Errol, Cookie, and Debra and then found my way back onto I-70.
As it happens, eastern Colorado and western Kansas look pretty much the same going east as they do going west. They are mostly flat, with some low, rolling hills. Windmill farms provide the most visual interest, especially after dark when you can see the red warning lights blinking simultaneously on scores of windmills.
I spent another night in Kansas sleeping across the front seats of the truck. This time I had prepared. I had several pillows to lay out over the seats to make them closer to level and to take the hard edges off the bucket seats. I think Lucy woke me up a couple of times, but I got a decent night's sleep.
I got home around 11 pm on the second day. I was pretty tired, but it was worth it. I hope it's not as long before the next visit.