Leah and I had a modest Thanksgiving dinner at home on Thursday, with turkey and store-bought dressing and gravy. It sounds sad, but it's just me and Leah here, so it's kind of hard for us to justify the effort to make a real spread.
Then on Friday we drove up to Chattanooga to have real Thanksgiving dinner with my brother Henry and his wife Terry. Her son and daughter-in-law came along with their two small kids. My brother's son Thomas came as well.
I don't have pictures of the dinner. Terry started cooking Wednesday and was still at it when we got there around 1 pm. The pictures would have been great, but not nearly as great as the food. If you have frozen dressing and canned gravy in the absence of anything to compare it to, you can almost convince yourself that it's just about as good as home-made. And then when you have the real thing, you realize that no, it's not.
We had turkey, dressing and gravy again, along with green beans with bacon, sweet potatoes, mashed potatoes, corn pudding, macaroni and cheese and something else I'm sure I'm forgetting. And then a carrot cake for dessert. There was also pumpkin pie with home-made whipped cream but try as I might, I could not force myself to have pie. Curses!
Before we ate my brother showed me his newly finished garage/woodworking shop, all 600-plus square feet of it, almost all of which he did himself. That was after he showed me the sideboard he had made for Terry. My brother does some nice work. I was embarrassed to show him what I had been working on.
This is the stone stove surround I completed on Thursday. It's real stone cut to regular sizes so it fits together easily. The edging is 12-inch slate tile cut to size. I had originally planned and started building a surround that was somewhat smaller, which is the recessed area you can see here. Leah asked if I thought it would look better if it were a little larger. I agreed, but said the addition had to look like it was done intentionally and wasn't a mistake. That's why the side and top borders extend somewhat proud of the original surround. That looks intentional, doesn't it?
I think it turned out well enough, but it hardly compares to the things my brother does. At least it's functional.
We came back home Friday night and woke up Saturday morning to a mild, dry cold front passing over.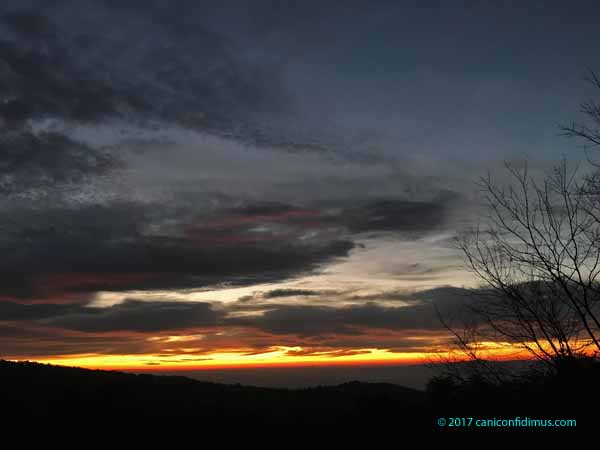 I missed the peak of the color by about a minute.