For the first time I can remember north Georgia was under a tropical storm warning for Sunday. The Channel 5 forecaster was pointing almost directly at us Saturday night.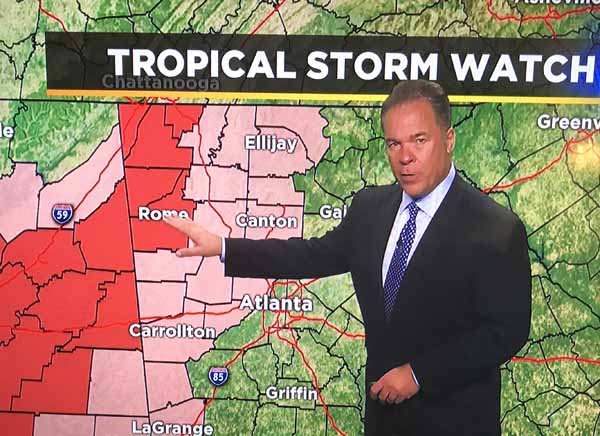 Hurricane/tropical storm/tropical depression Nate followed the forecast track almost exactly, crossing the top of northwest Georgia during the day on Sunday, but by the time it got here, the watch had been lifted. We got more than an inch of rain from midnight through around noon on Sunday, and then another inch and two thirds during the afternoon, less than the three to five inches predicted, but still enough to satisfy me, and I hope, both the plants and the aquifers for a while.
There was wind. If this fast-moving system is really gone by Monday morning, I'll see if it brought down any trees when the dogs and I take our walk. The damage will probably be limited to a few branches and lots of leaves in the road.
This late in the year I associate storms and rain with the passage of a cold front, but this was a tropical system, so it brought lots of humidity and warm temperatures. The temperature stayed around 70 degrees all day on Sunday, but it was too humid to open any windows. After this system is gone, we are supposed to have almost summer-like temperatures for the rest of the week.