This greeted us Monday morning when we woke up.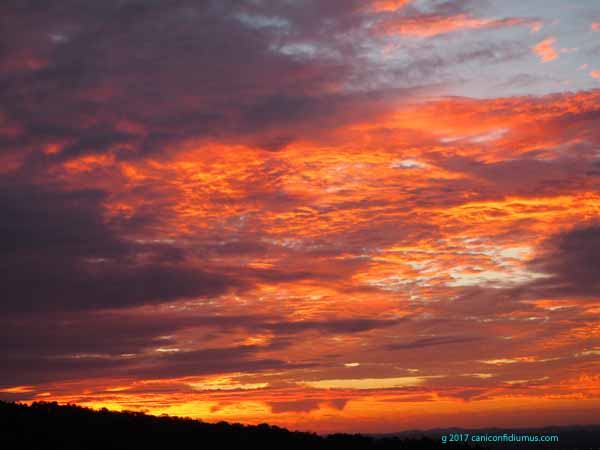 It was the best sunrise we've had in a while, although we appreciate every sunrise, dramatic or not.
Nothing much has been happening around here, or at least nothing very noteworthy. Summer is fading into fall. We've had pleasantly cool nights and days that were warm rather than miserably hot and humid. The only bad part is that we have had very little rain.
Molly seems like she is at home now; in fact, she seems a little too much at home. She's bullying Chloe, so Chloe doesn't want to come inside. She plays enthusiastically with Smokey; we've had to warn Smokey that he needs to tone it down so that he doesn't have a heart attack. She likes to ambush Sam when he comes down the hall. And she has finally learned that it's OK to relieve herself outside. She is still using a litter box at night, and occasionally during the day.
Zeke is still escaping every once in a while, but he's slowing down. I have to go out in the truck to pick him up. He's hesitant to come to me, but eventually he will. Once the children of the people who bought our old house brought him home. He kept turning his head to look at them as they walked back home. I think he might like to visit a little longer with them.
Sam is still chewing on Zeke's legs, neck, face and ears on every walk. They are such buddies, I worry about what will happen when Zeke is no longer around. After all, we've had Zeke 11 years, so he's at least 12, maybe older. That's pretty old for a big dog like him.
Lucy is still barking, and, unfortunately, peeing on dog beds. She loves to sneak out, go around the house, climb the steps up to the front porch, and eat the cats' food. She absolutely does not want to go on our longer dog walks, so sometimes I leave her at home.
Leah's feeling some arthritis pain, and what I think is sciatica. My knee hurts.
And that's all from here.