Here on Thursday afternoon Hurricane Irma is long gone, not even a tropical depression any more. There were hints of sun Wednesday morning, and even some blue sky on Thursday.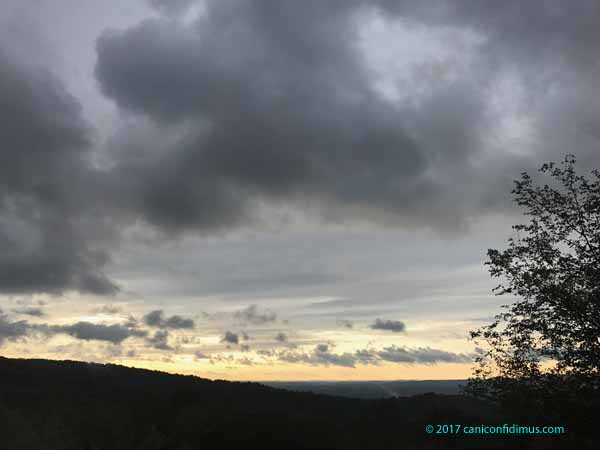 Although in Georgia at least two people died, many areas experienced damage, and more than a million people lost electrical power, we escaped with essentially no problems other than a lot of green leaves blown off the trees.
The last forecasts prior to the passage of Irma into western Alabama called for three to five inches of rain here. Our rain gauge registered about three inches over Monday and Tuesday, although I'm not sure that's correct. The wind was not extremely strong, but I suspect that it was strong enough to prevent the gauge from measuring correctly. It was the best kind of rain, gentle and long-lasting. There was little runoff anywhere in our yard.
The wind was strong enough to break off a few dead tree branches along Fouche Gap Road, which I tossed into the woods as I walked the dogs Wednesday and Thursday. It was also strong enough to whip a three-trunked hickory tree back and forth pretty well as we looked out from the dinner table. I'm not sure whether they are tall enough to reach the house if one of the trunks fell, but I have to figure that out. Falling trees killed at least one Atlanta man in his house, and an Atlanta woman in her car. As much as I like trees, I don't want one to fall on our house.
One nice aspect of the storm was the low temperatures. We had highs in the 60's three days and it was cool enough at night that we debated whether to put a blanket on the bed. Now Irma is gone, the temperatures are predicted to get back up into the mid to upper 80's in the next week.
*A Language Log post mentioned the expression "in the was" from a BBC interview of a retiring opera singer, referring to her career being in the past. I thought it was a nice expression, so I used it here.