We learned Thursday night that Hurricane Irma's expected track will take it almost directly over us, although as a tropical depression rather than a hurricane. This is how we learned about it.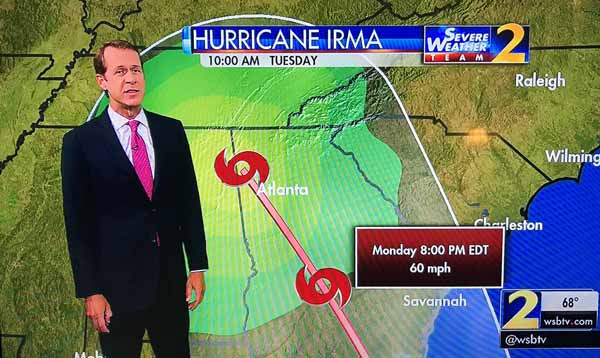 The path goes almost directly over Atlanta and the last point is over us.
The US National Weather Service shows this as Irma's expected track as of Friday afternoon.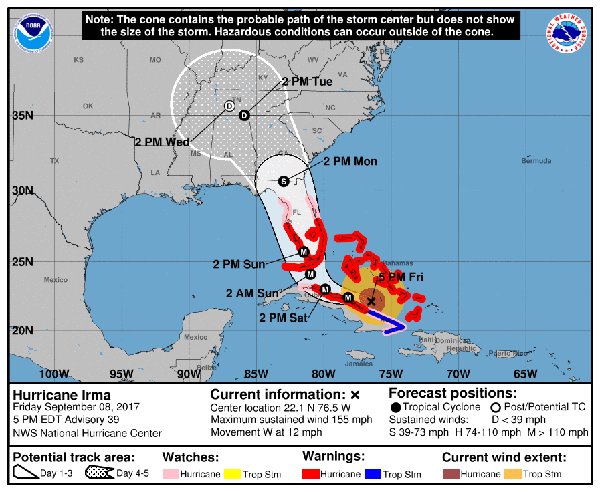 This is the predicted cumulative precipitation amounts. It looks like in Rome we can expect two to four inches of rain.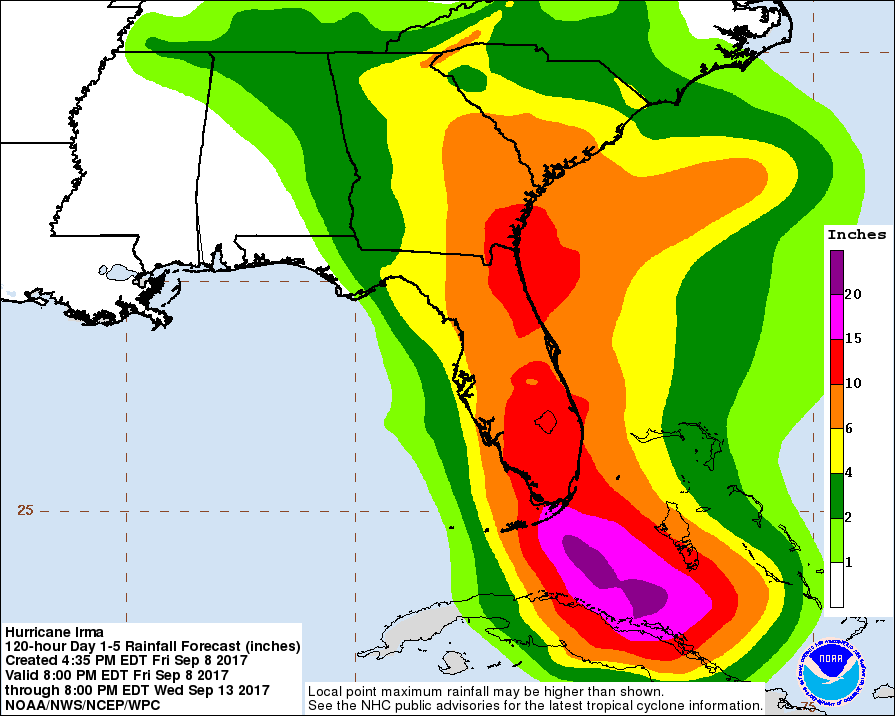 This is a good example of "be careful what you wish for." We had been watching the track predictions ever since Irma got far enough along for anyone to predict its path in the US. The early forecasts took it almost directly over Miami and then up the eastern coast almost directly over Savannah, Ga. Atlanta was expected to get some rain from the outer bands, but no effects were predicted for us up in northwest Georgia. Since we are a little short on rain now, I kept hoping the track would move a little west. Now it has.
It's not that we're actually in a drought like we were last year, but virtually every time the Atlanta weather people forecast rain for us, we get significantly less than they expect. We have new plants and grass that need water. Our well needs water, too.
Of course, things can change in the next couple of days; the predicted track has already changed significantly. Irma's path might veer east or west of its current prediction. But we should see fairly soon. Irma is supposed to be in south Georgia by Monday afternoon, and to pass over us by Tuesday afternoon.
The NWS forecast discussion continues to say that Irma is a life-threatening event for the coastal regions of Florida, not to mention the islands it has or will hit.
The NWS discussion of the Irma forecast says, "This afternoon's NHC forecast was again adjusted a little bit westward following the trend of the ECMWF model and both the HFIP corrected consensus and the FSU Superensemble." This mild statement says something fairly serious about the commitment of the United States to the NWS and science in general. The ECMWF is the European Centre for Medium-Range Weather Forecasts. Their hurricane model is generally considered the best in terms of its ability to predict the track a hurricane will follow. That is, it's better than the current US models, which is kind of off, since hurricanes are not much of a problem for Europe, but they most definitely are for the United States. One might naively think that the US would consider hurricane forecasting important enough to commit sufficient funds to get the best model in the world.
But, no, our government thinks that weather forecasting and sciency things like that are a waste of money when there are rich, important people who need tax cuts.
ArsTechnica has an interesting article about the spaghetti plots often shown for Hurricane tracks.
UPDATE Saturday morning: Hurricane Irma's predicted track has already moved west from last night when I originally wrote this post. It is now expected to cross west out of Georgia into Alabama somewhere south of an east-west line through Atlanta. Atlanta and Rome, as well as Chattanooga, TN, where my brother lives, are no longer in the center of the cone of uncertainty for Irma's path. We are still, however, in the cone. We are still expected to get somewhere between two and four inches of rain.