One of the less pleasant parts of walking the dogs up and down the mountain is seeing all the dead animals that people driving cars almost always overlook. There is a little of almost everything — snails, salamanders, snakes, turtles, birds, squirrels, armadillos, possums, dogs and deer. The dogs and deer are usually murdered elsewhere and the bodies dumped along the road. The rest are victims of our transportation system.
I almost never take pictures of the deceased, but a few days ago I saw a snake that showed no obvious sign of its cause of death (in other words, it wasn't smashed), and was such a beautiful specimen that I did it anyway.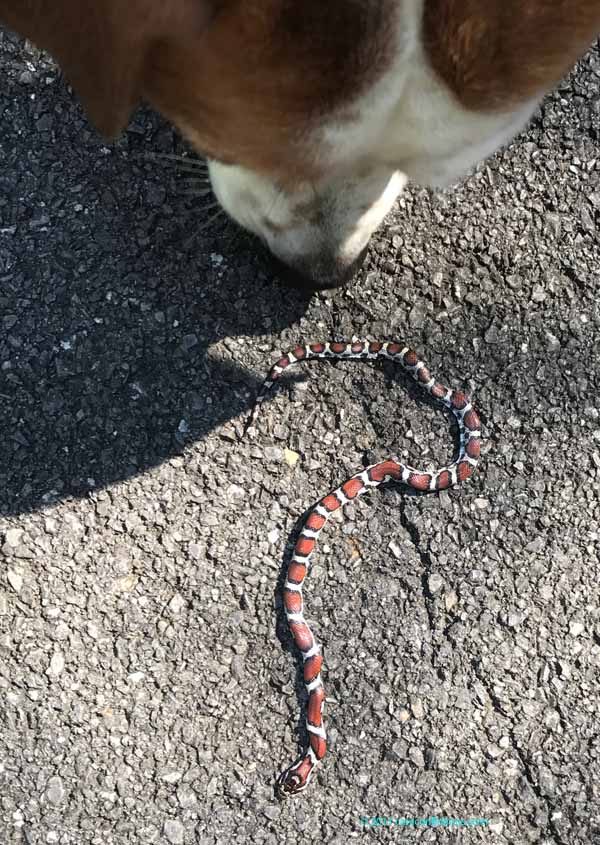 This is what I believe to be an Eastern Milk Snake. Curious Zeke is in the image for scale. This is small for a mature milk snake, so it is probably a juvenile. According to the linked site, the Eastern Milk Snake and the Scarlet King Snake sometimes intergrade in northern Georgia into Tennessee. Make sure you have followed the link to see the picture of the king snake, it's magnificent. The coloration of the unfortunate snake I saw here seems to be somewhat brighter than the image of the milk snake, so maybe it's one of the intergraded snakes.
What a shame.