We bought some crape myrtles and hollies for the yard between the side of the house and the driveway a few days ago, and on Wednesday I started digging a hole for one of the crape myrtles. The crape myrtles are in five-gallon containers, so they need a hole a foot deep by about four or so feet wide. That's a big hole, but that's not the whole story.
Here is one of the crape myrtles in the ground. It's about six feet tall.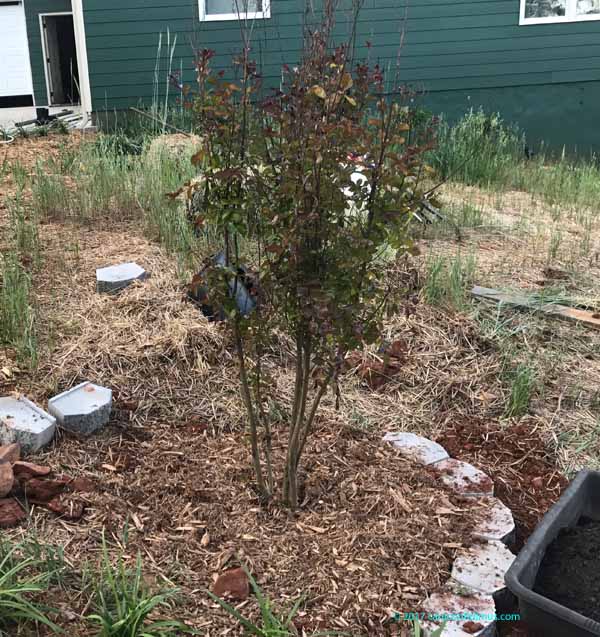 And here is the start of a hole for the second crape myrtle.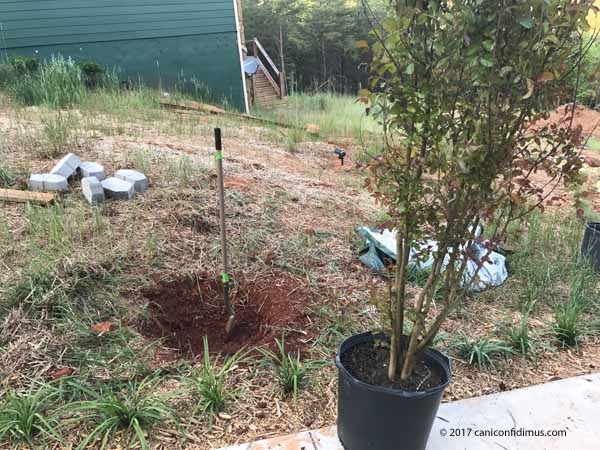 About half of the dirt taken from the hole is wrapped up in the tarp behind the crape myrtle. I dumped the rest down near the woods because it is too hard to use for planting. About four inches below the surface there is a layer of incredibly hard, almost black clay. It is impossible to dig this soil with just a shovel. It's not easy to do it even with a pick. The clay breaks into rock-like chunks that are impossible to break up with a shovel. Our regular hard red clay can at least be crumbled with a shovel, but this dark clay is impervious. Our neighbor John, who did the clearing and grading for us, lent us a gasoline-powered auger to use for planting. I tried it. The auger bit dug a few inches into the soil and stopped at the clay level, leaving a nice, polished surface where the auger spun uselessly against the clay.
I take the clay chunks out of the soil and use the loose soil that's left. There's no way I can put the hard clay back into the hole with the plant, even amended generously with compost.
Planting guides usually recommend against so generously amending the soil that goes back in the hole with the plant because it encourages roots to stay within that good soil and not penetrate out into the rest of the soil. Here, though, we're going to have to treat the crape myrtles almost like potted plants because the clay is so hard.
Each of these crape myrtles holes take me most of an afternoon to dig. I have wondered about dynamite.
The ground is especially hard now because we haven't had a measurable amount of rain for about two weeks. We have watched the weather radar as heavy showers pass north or south of us. A few days ago a good shower passed over town. We could watch it from our front porch.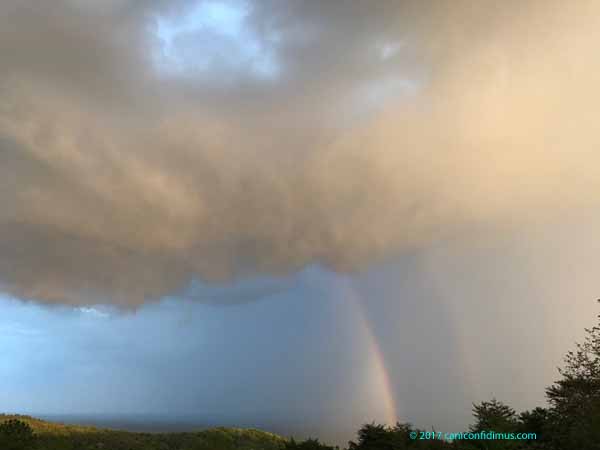 We got a sprinkle. I assume that at least the rain that passes close but misses us helps recharge the ground water, so maybe our well won't run dry.