The dogs don't know why there's no sun up in the sky. Seems like it keeps raining all of the time. Stormy weather.
The dogs agree: stormy weather is bad. Stormy weather, and especially thunder, necessitates seeking refuge, usually in a closet or at the feet of one of the humans.
This shot was from a few days ago when severe storms came through Georgia, causing at least one tornado. Fortunately the really bad weather missed us.
This shot was from Wednesday when another round of storms hit.
The storms on Wednesday were worse than those of a few days ago. We heard a report of another tornado south of us, which was where most of the really bad weather hit. The storms came through in the form of isolated thunderstorms rather than as a uniform wave of bad weather along a front. Here was one pretty severe storm that passed just north of us.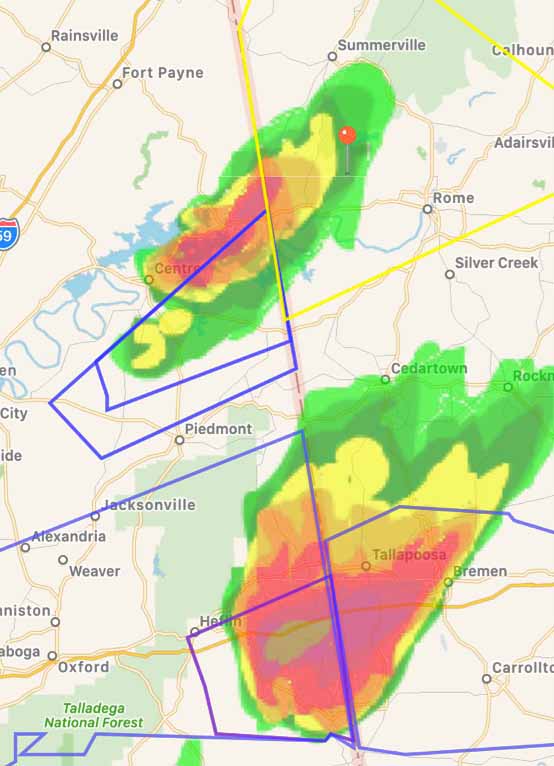 The red pushpin is our house. We got a light sprinkle from this storm, along with some lightning and thunder. The storm that passed south of us was also bad, but it gave us only distant thunder.
I have been working for a few days on channeling the runoff from the yard so that heavy rain won't wash away what little topsoil remains. This is a partially-finished channel from one downspout of our newly-installed gutters.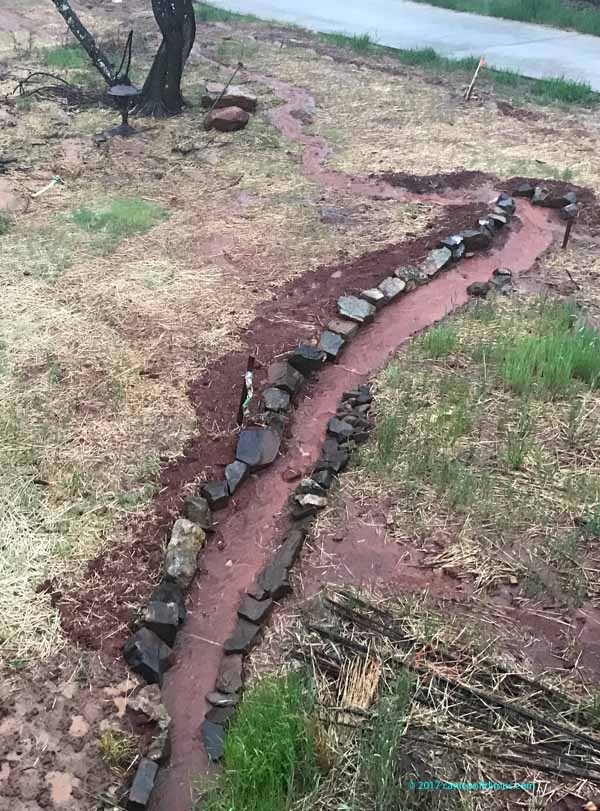 It's a little hard to tell, but there are ripples in the water. It was a fairly strong stream. I will eventually line both sides with stone from around the mountain and put commercial rocks in the actual stream bed. I will probably get some tennis-ball to softball-sized stone from a landscape company to make a bed further down the yard.
This shot doesn't show the other canyons being dug in other places in the yard. They will get their own treatment soon.
I'm not sure how much rain we got, because our fancy tipping bucket rain gauge seems not to be tipping reliably. I guess I'll just have to get one of the old-fashioned glass tube rain gauges.
As I write this there are still storm cells tracking towards us and the rest of Georgia, and Sam is under the table at my feet. I keep hearing thunder and Leah sees lightning. We may still get severe weather right here on top of the mountain.
The storm that passed north of us was producing hail around three-quarters of an inch in size. One of the Atlanta TV stations reported that the storm had a BTI of 2.5. Now you may be wondering, as I was, exactly what in the heck a BTI is. So I looked it up. It turns out that it is a commercially-produced index indicating likelihood of tornado production. It means Baron Tornado Index.
As it happens, I know where BTI came from. A Huntsville, Al, TV weatherman named Bob Baron decided to leave TV weather forecasting and form a company to sell weather visualization and analysis software, mainly to TV stations. I remember watching him when I lived in Huntsville. After searching for BTI, I went to the Baron company's website. I was a little surprised to see how much the company has grown. I looked at their "leadership" listing, and was not surprised to find that everyone they list was basically in sales. They claim to have developed some pretty sophisticated software to forecast hurricane tracks, among other things. That kind of software development and meteorological capability requires a very good development team, but they were nowhere to be seen on the company website. That figures. The ones who do the work get no recognition. The ones who do the selling get all the glory. And, I suspect, most of the money.
They did mention their "chief scientist" in one news release. However, it would have been nice to see at least some mention of the rest of the staff that does all the work behind the glitzy products the company sells, rather than just the salesmen. Maybe they are mentioned somewhere on the company site. They are probably just hidden away so they won't embarrass the salesmen.