We often see groups of turkeys on the mountain, but we have never seen any in our yard. That changed on Monday. I looked out the kitchen window and saw four about 20 feet from me at the edge of the woods. I called Leah over and we watched as several more came up the side of the mountain into the yard. I took some photos of them through the window, which, unfortunately, has screens. It significantly reduced the contrast on the images, so I was pleased when they kept going into the front yard, where I could get a shot through a window with no screens.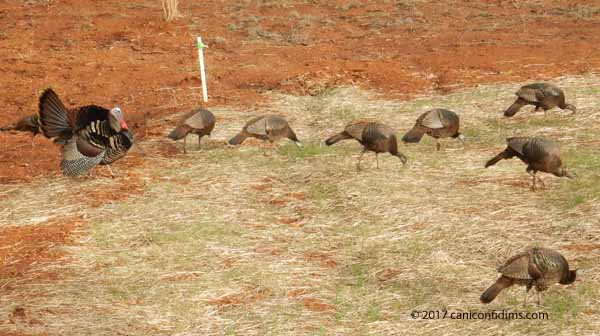 As you can see, the tom was strutting his stuff.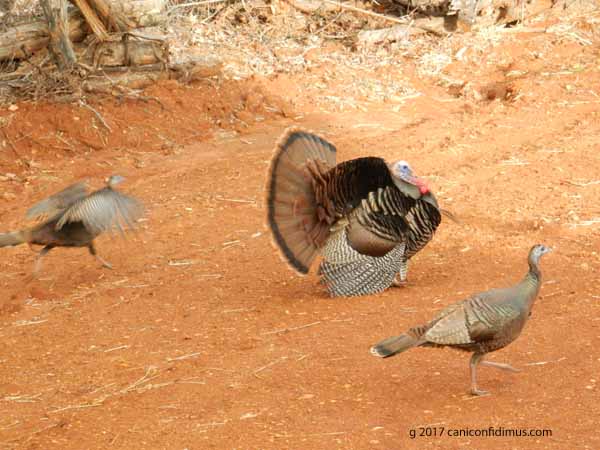 The hen in front shows a slight iridescence. You can't see the male's iridescent feathers because of the way they are spread.
Here he is from behind.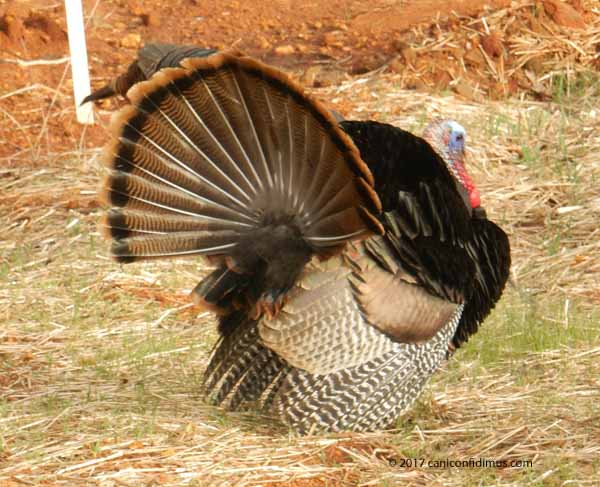 He was quite a specimen.
There were 14 in all. They continued through the yard, pecking at the ground as they went. I'm not sure what they were eating. They pecked at the areas spread with wheat straw, which was sprouting some grasses, and they pecked at the bare spots. Wikipedia says that turkeys are omnivores. Their diet includes nuts, berries, seeds, grass, and insects, plus, apparently, lizards and frogs occasionally.
I think this may be part of a regular route they take because I have seen turkeys crossing the road near the front of our property. We may try putting out some kind of food for them, although I suspect that crows will eat most of it.