This was the view out our side bedroom window on Wednesday morning, just after dawn.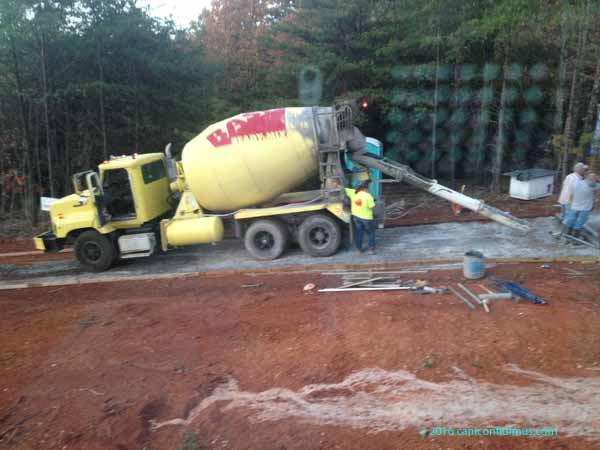 We're having our driveway paved. Concrete guy David, the same concrete guy who did the basement slabs and drive at our old house, is doing this one, too. He started early Monday, skipped Tuesday (except for a predawn visit to get some of his tools) and then returned Wednesday morning while it was still dark. He and his workers prepared the forms, and a truck showed up around 7:30. Needless to say, we did not sleep through this.
The odd pattern in the photo at the top right is the reflection of my iPhone in its case. It took me a few moments to figure that out. I could have opened the window, but that would have drawn attention to the fact that I was standing in my sleeping shorts in front of an almost full-length window. The woman in the yellow shirt standing at the rear of the truck is the driver.
David told me he is 53 years old, but in concrete years he is 93. Two of his workers are also of a certain age, although probably not as old as me. I was surprised that the third in his crew is a young man. I wonder if he will continue in this line of work. It seems to take a toll on those who do it.
David and his crew finished to within about 15 feet of the street on Wednesday. They plan to return early Thursday. Fortunately for us, they will be at the bottom of the driveway, so we might be able to sleep a little later. Leah, unfortunately, will have to feed the cats earlier than normal because the commotion scares them away.
The driveway from the large pad outside the garage to the road is about 300 feet long. So far it has taken seven truckloads of concrete, each about nine cubic yards. David hopes it will take only one more truckload to complete the driveway to the road. I hope so, too. Each truckload costs more than $1,000.