I saw this little garter snake Thursday morning as the dogs and I came back up Fouche Gap Road from our walk.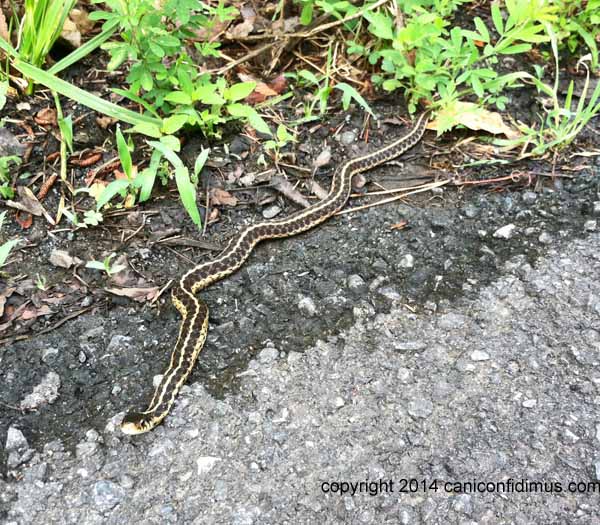 I was happy to see this one still alive, because I had just seen one like it a few feet away that had been run over by a car. This one seemed content to stay at the side of the road, so I didn't disturb it, if you ignore leaning down to get the picture. The snake stuck out its tongue at me.
A few days earlier as I was driving down the mountain I found a beautiful black racer lying in the middle of the road. I put on my emergency blinkers and stopped to try to get it to move off the road. It was about three feet long and very thin. Unfortunately, I didn't have time to get a picture because I had stopped at a curve and couldn't linger.
The snake reared its head as I approached. I nudged its tail, but it didn't want to move. I kept nudging it until it finally got the message and raced off into the woods.
People around here tend to run over snakes when they see them, whether they are venomous or not. That makes cool mornings and sunlit asphalt a dangerous combination. So far I haven't found either the garter snake or the black racer dead on the road, so maybe they'll make it.